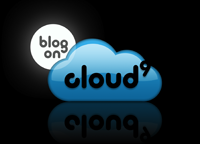 ContentRobot is pleased to announce our newest service: BlogOnCloud9.
What is it? BlogOnCloud9 is the premier destination to host your WordPress blog.  Bloggers can get the best of both worlds and take advantage of a scalable "cloud" hosting plan coupled with expert WordPress support from ContentRobot.
BlogOnCloud9 will support bloggers every step of the way.
We'll help to solve any issues that arise – from perplexing WordPress problems to optimizing your hosting environment.
We'll give bloggers their own custom WordPress installation (you won't find any unintelligent "one-click" installs here).
We'll encourage bloggers to install any plugin, theme, or widget … or even have us do it for you.
ContentRobot Knows WordPress
We've performed hundreds of upgrades, backups, and platform migrations
We've applied key security and hack-proofing measures
We've integrated social media tools such as Twitter, Facebook, and LinkedIn
We've determined the best ways to really take blogs to the next level with SEO, metrics, newsletters, RSS, and more
Why Host WordPress Blogs in the Cloud?
We got tired of working with shoddy hosting tools, slow hardware, and hard-to-reach, unhelpful support.
We were unimpressed with hosts' over-inflated boasts of storage, bandwidth, and speed claims.
We are impressed by the Rackspace's stable and expandable environment and appreciated their team of fanatical platform pros.
Why did we launch BlogOnCloud9? To build the host we always dreamed about.