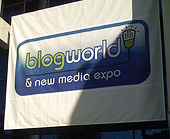 The ContentRobot team landed in Las Vegas this morning! For the next two days we will be attending BlogWorld & New Media Expo.
We are planning to network with a bunch of attendees, as we traverse the conference floor and attend a variety of blogging, web 2.0, and social networking sessions.
We are looking forward to meeting with several bloggers and industry developers that we have spoken to since starting ContentRobot. We were very pleased to get some invites to some cool parties this week.
We took some photos with Dana's iPhone and uploaded them to Flickr! Check out today's pix and watch this space for more blogging from BWE.