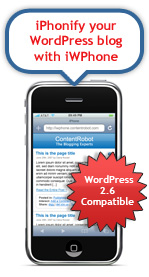 ContentRobot put our plugins – iWPhone WordPress Plugin and Theme and Google Website Optimizer Plugin – through their paces and we've deemed them to be WordPress 2.5 compatible!
As always, the iWPhone plugin does not play nicely with WP-Super Cache (or any caching plugins), but there is no change to the installation and usage.
Even tho Google has updated their Website Optimizer, we found that multi-variant testing works great with the plugin on any WordPress blog.
Thanks for all the good things you have to say about our plugins – we're glad you find them useful.