As we told you, we recently implemented the iWPhone Plugin and Theme on two of our client sites, Bazaarblog and GrokDotCom.
Lots of people have been asking, "What do these WordPress blogs look like on an iPhone? Well, Bazaarblog has sent us an image.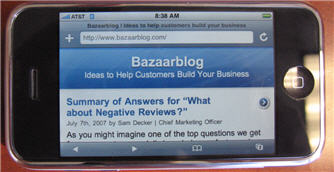 Did You iPhoneify your blog?
We know you can't do a "screen shot" on your iPhone – but take some digital pix (or an iPhoney screen shot) – then show off yours by:

Sharing them on Flickr and tagging them with the keyword "iwphone"
Posting a story on your site and send us a link
Sending your pix to us
Check out the iPhoneified gallery for the latest.