ContentRobot launched the Team Timex Blog today!
The blog was developed to provide a comprehensive forum for 45 Timex-sponsored athletes. You can follow the athletes as they train and compete all over the world in triathlons, and other events that feature biking, swimming, and running. With their wide variety of expertise, the bloggers will educate and entertain their readers about life as a Timex athlete on the 2006 tour.
About the Team Timex Blog
The 45 members of Team Timex will collectively author the blog and write about topics such as:
Diet and Nutrition
Family
Race Reports and Results
Swimming
Tips
Training
What the Athletes Wear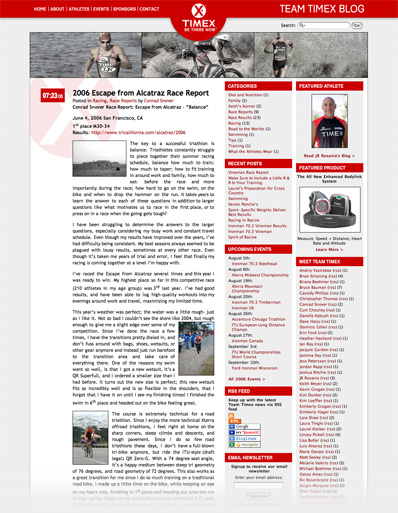 Major Features
Read each Timex-sponsored althete's blog and track them with their own news feed.
Sign up for a newsletter so you can get the latest posts in their inbox.
Check out the calendar of events to see where the athletes are racing.
Get overall race results and personal race reports.
A clean, classy design complements the new Timex branding effort.
The blog uses the WordPress platform and has several supporting plugins that extend the functionality.
Metrics tracking via Feedburner and Performancing.
Read ContentRobot's case study that described the project as we built it.
Go check out The Team Timex Blog!