Purpose: Debt Relief Companies connects people mired in debt with companies who can help them ease any money issues, and instructs them how to minimize their cash flow woes with a variety of resources.
To best educate its visitors, Debt Relief Companies wanted to develop a blog-powered website. Here readers can learn more about debt at their own pace, ask specific questions related to their situation, and contact companies who can help them to relieve their money problems.
The site focuses on topics such as credit card debt, credit counseling, debt solutions, and avoiding bankruptcy. Rounding out the content is the latest news and opinion, which is supplied from leading personal financial publications and blogs.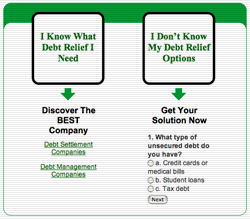 Features: ContentRobot designed and customized a slick three-column WordPress theme. By taking advantage of blogging software to manage their site, Debt Relief Companies can easily add additional blog categories, pages, and stories.
The home page center column provides a great starting point for debt-riddled visitors, as it walks them easily through their debt options and provides the proper level of guidance as delve deeper into the site. Once inside, the center column is where the main content sits.
The left column links to various pages that describe honest companies and debt education topics, and acts as effective subnavigation while traveling throughout the site.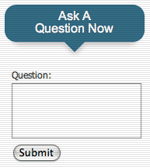 The right column provides a Q&A area where the latest questions and answers are displayed. Readers are encouraged to and can easily add their own concern to the mix with a handy, unobtrusive form.
Why It's Successful: Since launch, Debt Relief Companies has been steadily adding content to its blog-powered website. They are now working hard on marketing and promoting it to attract more visitors who may be in need of education and their services. While still in its early stages, we expect that by publishing a steady stream of helpful information, this new site will gain a strong following.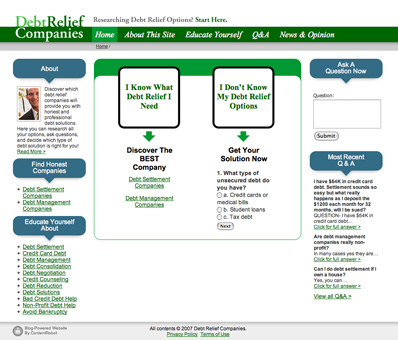 Check out the site!