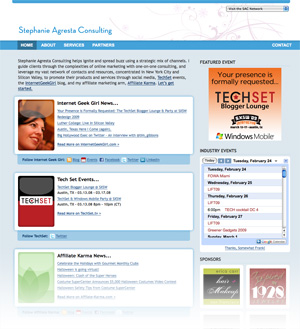 Stephanie Agresta outgrew her static web presence and asked ContentRobot to convert it into a blog-powered website. Along with a great new design, we were able to showcase her connections and communications in a powerful package.
Stephanie wants to help you to succeed with your online marketing efforts. Take advantage of one-on-one consulting and let her leveraging her vast network of contacts and resources, as you promote your products and services through social media.
On her new site you can learn more about all she does in her Web 2.0 world, the circles she travels in, and more about all the contacts she knows and cultivates (OK, she knows everyone in tech!). Keep tabs on all she does on the 'net with:
Internet Geek GirlNews – Check out the latest posts at a glance, click to Events, and connect to IGG via Facebook, Twitter, and LinkedIn.
TechSet Events – See the latest happenings with TechSet.tv and follow their Twitter stream.
Affiliate Karma News – What is going on in Affiliate Marketing? Find out here (including the latest events) and stay in touch via Facebook, Twitter, and LinkedIn.
The ever-social Stephanie highlights  a "must go-to" event (that she'd love to meet you at) along with a Somewhat Frank-powered tech event calendar.
By using the power of RSS to display Stephanie's latest thoughts and linking to all her social media connections,  ContentRobot captured Ms. Agresta's comings and goings in a dynamic way.
We think this is a great model for anyone who has multiple entrepenuerial projects and concerns and we are happy to share our latest launch with everyone.