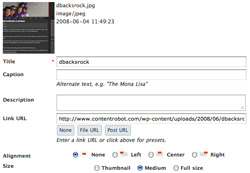 With prior versions of WordPress (2.3.3 and earlier) ContentRobot often installed plugins to assist with advanced WYSIWYG post tools and better image management. We knew that 2.5 had included a newer version of TinyMCE and also integrated the ability to include media (pictures, songs, video, and other file types) into the Write > Post panel.
We were looking forward to seeing if there was a big leap in functionality. We like the new Media Manager because it's quicker and tidier to add images when blogging.
To add images, click on the add image button, then:
Enter a title, add a caption, and longer description
Choose to upload an image, use an image from the gallery (images in the current article) or images from the media library (previously uploaded in any post or page).
Set your alignment (left, center, right)
Link the image (none, file URL, post URL)
Click the Insert into Post button
Note: You can set up various image parameters in the the Options > Miscellaneous panel) to indicate your thumbnail and medium sizes, as well as the ability to store the media in month/year folders. There is also a new Media Library section, where you can view, edit, and delete media files.
While it's not perfect – you don't really embed a podcast or a video, rather it makes them links – it makes it much nicer to add different media types to posts and pages.
What do you think of the new Media Manager?