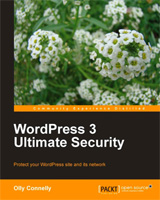 Are you running a WordPress-powered website that whose up-time is critical to your business? If not, do others manage it for you? Then do not hesitate to pick up WordPress 3 Ultimate Securityfor yourself or your web team.
While we expected the book to only cover some basic WordPress plugin and server techniques, Olly Connelly goes much deeper to help you shore up your entire network from personal computers, the server configuration, and finally the site itself.
This book is not for the faint-of-heart. In fact:
Connelly reveals some scary techniques hackers use that can easily ruin your day
The numerous ways you can be spammed, spoofed, phished, hijacked, and more
Server administrators must be ready to get down and dirty into code for both testing and shoring up holes (that you never expected to find)
It's so more than renaming your admin account, installing a few security plugins, and keeping your site regularly backed up
Right off the bat, the book outlines who the hackers and crackers are and how they exploit weak server, personal computer, and network setups. Admittedly, it's fascinating and horrifying all at the same time, but it forces you to throw away the concept of "false security."
Even those who are unable or unwilling to batten down the hatches on all fronts can at least learn more about the importance of better passwords, WiFi vulnerabilities, and browser issues.
The only fault with the book was that it took 150 pages to get into WordPress itself. But that can be forgiven as Connelly's breezy, fun writing style makes mere mortals feel like they tackle the most geeky of tasks.
He does impressive legwork and provides numerous code examples, internet resources, tips and techniques, plugin recommendations, and steps to take to recover a hacked site.
WordPress 3 Ultimate Security is not for everyone. We recommend this as a reference for those who who already have a good working knowledge of Unix servers and their various protocols and for who want to stay ahead of those pesky hackers.

Go read more about the book and get your copy from Packt Publishing >>