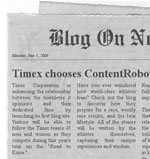 As we recently reported, Timex Corporation signed ContentRobot to develop its sponsored-athlete blog.
We wanted to share with you the published press release and our mention in The Blogging Times.
In an upcoming series of posts, ContentRobot will take you into the behind-the-scenes approach into building a business blog for Timex.
We'll discuss how we considered the requirements for technology, design, imagery, content, and more.
We also will offer what happens after it launches and our thoughts on how to maintain a successful corporate blog.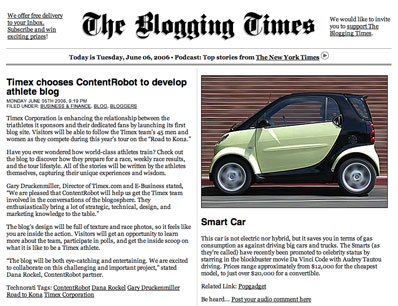 Follow ContentRobot as we reveal the strategies and best practices we used when developing the Timex athlete blog and how we'd approach your business blog project.
Tags: ContentRobot, Timex, blog , business blog , corporate blog