Purpose: Education Insider is a blog-powered website whose goal is to connect public school stakeholders with state education policy in an entirely new way. Its mission is to inform busy parents, trustees, and professional educators about vital issues—before decisions are formulated and announced from Austin, Texas.
Focusing on a specific issue per month (or sometimes more often), Education Insider reports about their subject matter within the following categories: "On The Table (news and developments)," "Backstory" (background and perspective), "Commentary" (editorial observations) and "What You Can Do" (action items). They also discuss a variety of other stories and information in their blog.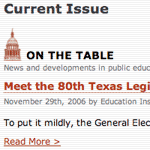 Features: Education Insider wanted to develop a website that would package certain topic much like a printed edition. ContentRobot customized the WordPress blog software to indicate where to publish and display these related articles. When Education Insider writes stories chooses the appropriate categories (among the four listed above), they are published together on the front page to comprise a "publication." When they choose other categories, the posts will be displayed in the blog and not as part of the publication.
Also, when visitors land on the Education Insider site, they'll notice that they can initially see only article teasers. With another technical modification, ContentRobot assisted Education Insider to show only excerpts to non-members and to grant entire article access to its registered members. While a technical challenge on the backend, the interface remained intuitive and elegant.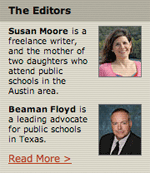 Other features include the ability for readers to get latest information with tracking with an RSS feed or receiving an emailed newsletter. The toolbox provides resources and education on how to contact your representatives and offers ways you can help further the cause of public education. And there is an informative video on the home page, with podcasts yet to come.
Why It's Successful: The Education Insider blog-powered website has become indispensable to all who are interested in keeping informed on the vital issues surrounding public schools.
By using the blog software, it has allowed Education Insider to easily chronicle the issues facing Austin, TX public education with packaged publications and blog posts alike. ContentRobot implemented a clean-looking, professional site, designed to focus mainly on its content.
Go check out the Education Insider Blog-Powered Website!