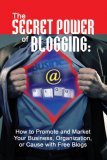 ContentRobot is pleased to offer our first ebook, which is an excerpt of our collaboration on  The Secret Power of Blogging.
You'll see:
Karen's foreword of the book
ContentRobot case studies featuring our clients (BazaarVoice, Beneath the Cover / Push the Key, Bite of the Best, GrokDotCom, New School Selling, Shop.org, and Team Timex)
Outsourcing Versus In-House Blog Development (including design, technical, and marketing issues)
Benefits of working with a blog development company
Finding a reputable blogging vendor
We hope you enjoy the ebook – your's free for the taking! Click here for your copy.