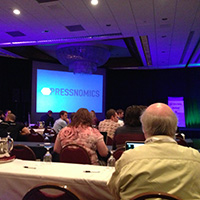 Now the new year is well underway, have you planned what trade shows and conferences you'll be attending? To keep up on the WordPress and blogging trends, ContentRobot usually makes a point of going to New Media Expo (formerly BlogWorld Expo & New Media Expo) and a local WordCamp or two (we are lucky that we can choose to check out both Boston and New York).
While it's easy to get overwhelmed at a show, we wanted to share our tips for a successful event:
Five tips before you go:
Determine your goals for the event. They could range from learning new tools and techniques, to getting new contacts and clients, or just to just meeting up with old friends and colleagues.
Bring plenty of business cards. They are both easy and inexpensive to make if you use services like Moo and Zazzle. Bonus Tip: We love the mini cards both of these sites offer as they are quite memorable.
Reach out to participants, speakers, and vendors on Twitter. Find the show's Twitter hash tag, save it as a search term, and follow all that is going on before you go.
Ask your friends and colleagues if they're going to the conference so you can make sure to connect with them while you are there.
Plan your sessions because you can't attend them all. Read up on the presenters by visiting their website or reading their social media streams to help you decide if they are worthy of your valuable time.
Five ideas while you are there:
Be yourself and realize many conversations start with just a smile and a hello. Remember that the conversations in the hallways can be just as important as the content in the sessions. If you are really shy, bring a buddy to help you network.
Try to not pick up too much swag. Don't bother taking stuff that can't possibly fit in your carry-on/luggage or that you won't really use when you get back.
Don't lug around a heavy laptop if you can avoid it. Use your smartphone or iPad to check email, take notes, keep tabs on the show, and connect with other attendees. Remember most information is available online, so try to keep a list of URLs to visit when you get home instead.
When taking notes on a session, pay attention to what is being said and jot down key points instead of transcribing the speaker's notes completely. Most presenters make notes and slides available online and will gladly answer questions after the session. Note the contact information of the presenter for easy follow up when you get home.
Attend after hours meetups and parties. Don't feel that you have are "the wrong party" – enjoy who is there with you and interact as best as you can (without getting drunk and/or dancing on tables).
Five suggestions for when you get home:
Catch up on your sleep! Shows can really drain you if you don't pace yourself.
Review your notes and make an "action list" of things that you learned that you can do today, this week, this month, and this year.
Go through your business cards and contact anyone of interest via email, Twitter, or a quick phone call.
Post your experience on your blog and in your social media platforms. Give kudos to the sessions and speakers that inspired you. Let others know what great contacts and products/services you discovered – this way you can help others who were not able to attend.
Plan on going again next year. ContentRobot likes to maintain an "industry events" calendar to keep up on the shows that we regularly like to attend.