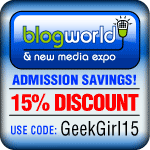 Meet ContentRobot at BlogWorld, on November 8-9 in Las Vegas.
Not sure if you can make it? Maybe this will entice you…
We went to a birthday party last night in New York for our partner and social media expert, Stephanie Agresta (aka Internet Geek Girl), and she was giving the presents. She wants you to save 15% on your admission – just use the code GeekGirl15 when you register.
ContentRobot is looking forward to seeing you there.