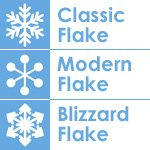 Back by popular demand, ContentRobot has re-released our Snowified Kubrick for WordPress Add-on.
It's updated for all WordPress versions, including the latest 2.6.5. So, if you are still using the mighty Kubrick theme, this will certainly help you to get your blog dressed up for the holidays.
Don't forget to add your comments and let us see your snowy site!