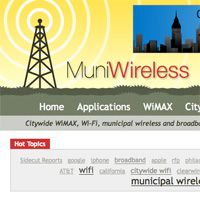 MuniWireless, the leading publisher of news and analysis for citywide wireless broadband initiatives worldwide, sought ContentRobot to help them revamp their blog.
We treated their site to the following updates and enhancements:
A clean, more readable design
Updated navigation and re-categorization of existing posts
Home page content features to drive visitors to read what's important to them
WiMAX and WiFi maps, powered by Google
Upgraded WordPress software and related plugins
Upgraded OpenX, ad serving software
Early feedback to the new site has been wonderfully positive. Check out today's press release announcing the blog.