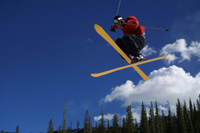 Our last post described a very hairy week for ContentRobot. We had hoped that the weekend and a day of skiing would allow us to put it to rest and refresh.
It worked! We were able to hit the slopes and remember that ContentRobot had successfully worked through our issues. Our great clients can ultimately benefit from our latest challenges.
So why do we have such an attitude adjustment? We are looking forward to many things:
A new ContentRobot blog-powered website design – the comp looks amazing, we can't wait to build it out
A solid upgrade / security plan in the works – clients should know we are taking good care of their blogs
WordPress 2.5 comes out sometime this month – we have installed the beta and were really impressed
We were also reminded that:
Solving technical issues is one of the biggest reasons why we are here – and we do love a challenge!
Special relationships we have built allow us to go beyond initial engagements – we are excited to be able to work with great people wherever they are working
There's no place where we'd rather be – we love developing effective blogs and blog-powered websites
Thanks for allowing us to vent a bit – now it's back to work!