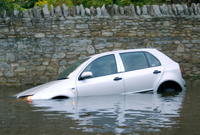 Have you ever had one of those days? You know the ones, you wake up with a little spring in your step only to be squashed like a bug? We don't know if it's due to the recent change to daylight saving time or what. While we were excited about those longer days, we forgot about the dark mornings.
But we digress. So what happened at ContentRobot this week to bum us out?
SERVER ISSUES
We recently decided to move the ContentRobot domain to a new host, but the migration has proven to be to nothing short of exasperating. First, it was the inability to connect to our mail that required us to contact support. Then, it was adding in our subdomains that caused more problems. But this week took the cake, as our site could have been down for 24 hours with little help from the host (who apparently is undergoing a technology transition and forgetting their customers). Thankfully with a bit of our own technical wizardry and a backup plan, we were really only down for an hour.

DIGG + WORDPRESS = WOES
One of clients has a successful technology-based site that was about to get a whole lot more popular in a short period of time. They posted a story on Digg and it quickly was dug to the front page – usually a great thing. We learned quickly that WordPress doesn't handle traffic spikes well, and their host in response removed the permissions to the database, basically took their site down ungracefully (3 times, in fact). With an upgrade to the latest version of WordPress, an install of WP-Super Cache, and several calls to the host, we finally got the site stabilized after four agonizing hours. While we are big fans of WP-SuperCache, we realize that this plugin is helpful in times when you can anticipate traffic floods, and should not be used all the time, especially when serving ads dynamically.
CLIENT SITES HACKED!
No, not one, but two of our client sites got hacked. After much poking, we found evil scripts posted in various subdirectories in both cases. This, of course, took the sites down. We have since upgraded these clients to the latest version of WordPress and locked them down (thanks to some help from the WordPress community that had experienced similar issues). We now realized that we were quite naive in not considering malicious attackers, but we are happy to report that we do have a workable security plan in place to protect everyone.
A SPECIAL CONTACT MOVES ON
While we were working hard wrapping up the loose ends on the ReveNews Movable Type to WordPress conversion, we found out that Sam Harrelson is moving on to other opportunities. He's a great guy and we will miss working with him on that project, but hope to continue our relationship no matter where he lands.
So from spending too much time dealing with these glitches rather than helping our clients, it made for a very unhappy ContentRobot for a good part of the week. We are looking forward to regrouping over the weekend – perhaps one last spring skiing day will cure our ills?