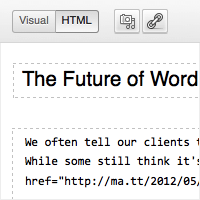 We often tell our clients that if you can create a Word document, you can easily write posts for your WordPress blog. While some still think it's too hard, it's good to know that Automattic is already thinking about ways to simply the task.
According to Matt Mullenweg, WordPress (which amazingly turning nine on Sunday!) is about a third of the way into its CMS and application platform phase. ContentRobot has been creating blog-powered websites for years because we have always believed it was "more than a blogging tool."
What's next for WP? The forth phase focuses on social and mobile. And with the of release WordPress' official iOS and Android apps, this evolution is already beginning.
It will be cool to find out what Matt really means when he says he's "thinking outside the box of wp-admin."