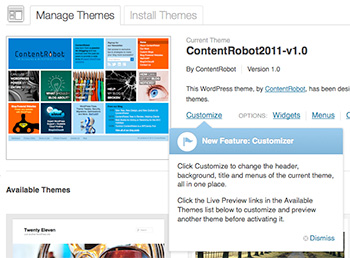 WordPress 3.4 introduced a pretty neat feature: the theme customizer. You can now test out various looks and settings for your theme without launching those changes live. In the past, ContentRobot took advantage of a plugin called Theme Test Drive, which allowed only signed-in admins to make and view theme changes.
Now, for themes that support these customizations, you can easily change:
site title and description
menus
colors
backgrounds
custom image headers
Naturally, Automattic will add more functionality to the customizer in future editions.
How to Customize Your Theme
In the dashboard, go to Appearance > Themes and click Customize. You'll then see a collapsible left-hand sidebar with all the customization features available and your site in preview mode on the right.
Open the element you want to change in the sidebar. For example, clicking on the Site Title & Tagline arrow, opens up a dialog box for you to make your updates. As you make changes to the different elements, the live site preview will change on the right to reflect these changes.
You can also navigate your site as you go to see what your customizations look like on different pages all in real-time. Your site visitors will only see the live theme and not any changes you are playing with.
Once you're happy with how the theme looks, simply click the Save & Publish button and your new settings will be live. Don't like your customizations? Just click Cancel and everything is back to the older settings.
Have you used theme customizer yet?