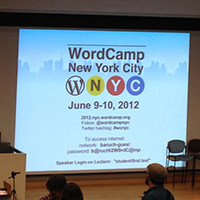 Hot on the heels of our BlogWorld Expo trip, we were back in the Big Apple for WordCamp NYC 2012.
While BWE was all about making contacts and talking about BlogDroid, WCNYC was all about immersing ourselves in the sessions in hopes of learning something new. We were not disappointed, as the conference was full of inspirational speakers who really "knew their stuff."
Some of the best talks were:
We also got an opportunity to help out at the Happiness Bar. We always enjoy sharing our WordPress knowledge.