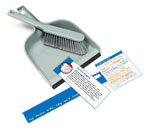 If you have been managing your blog for a while, you might notice that things have been getting cluttered as you've added new features, buttons and widgets – it's time for spring cleaning!
Blog Design
Even if you feel you haven't done alot of modifications to your blog's design, be sure to take the time to validate your home page, blog templates, and CSS files at http://validator.w3.org and reduce all errors.
Check your blog in multiple browsers and multiple plaforms. Viewing IE 6, Firefox, and Safari on PCs and Macs can help you to iron out the bugs.
Play with the increase and decrease font features in any browser to see if the design still holds up.
Turn off stylesheets in your browser. Does the blog's structure still make sense?
Turn off images in your browser. Is everything still understandable? Is the text still readable?
Resizing your screen's resolution to 800 x 600 pixels and then to 1024 x 768 pixels. How does it look?
Use the Google Mobilizer to view your blog the way mobile users will see it.

2. Blog Code Quality
3. Blog Content
Review your the information in your menus and sidebars for what is essential and what can be pruned.
Check your buttons, banners, and advertising that gets in the way of your design and blog content.
Do you have old polls, contests, and other elements that are gumming up the sidebars?
These little tips will allow you to keep your blog accessible, flexible and user-friendly.
This post was inspired by Rachel's Blog cleanup checklist at Cre8d blog.