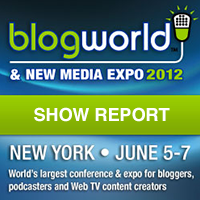 Today was all about walking and talking.
Because the Javits is not convenient to any subways, ContentRobot spent a good deal of time just getting to and from the hotel and the convention. As we traversed mid Manhattan, our morning walk was made sweeter by a Jamba Juice treat. Our afternoon trek, however, was highlighted by on-foot meeting with one of our BlogOnCloud9 clients, John Haydon, a great guy that we were pleased to finally meet.
While at BlogWorld, we walked the show floor looking for some cool tools and potential partners. We especially enjoyed talking with:
Headway (Clay Griffiths is doing a great job in developing his drag-and-drop WordPress theme)
Rackspace (who are excited about their CloudSites offering again)
Linkshare (ContentRobot built their US and UK blogs back in the day)
We did go see the excellent Keynote, featuring the very witty Tom Webster (another BlogOnCloud9 client) and Chris Brogan. While Rick Calvert said that BlogWorld & New Media Expo was morphing into New Media Expo – or NDX – for the Las Vegas show, we were happy to hear Brogan's talk focus mostly about blogging. Since the 90s, Brogan has been a prolific producer of content and he still believes in the power of the blog (as do we).
Although the feet are tired, the ContentRobot team had another enjoyable day at #bwenyc.