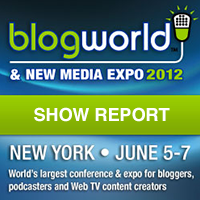 Today we split our alliances and went to the Book Expo America convention along with checking out some BlogWorld sessions.
At BEA, we:
Got an advanced copy of the book Change-Friendly Leadership signed by Dr. Rodger Dean Duncan
Snagged one the more clever giveaways – little bottles of "Spring Water for Dummies", which was in front all of the "Dummies" series of books
Spotted 2 celebrities in the same aisle: journalist Dan Rather and quarterback Jim Kelly
It's a huge show and a lot of fun. We were surrounded by big and little publishers and one could totally get lost in all those books.
Back at BlogWorld, we attended 2 good talks:
BWENYC had a nice full complement of sessions for bloggers, podcasters, social media types, and anyone creating online content. There was something for both newbies and veterans alike.
The ContentRobot team, however, could be counted among the walking wounded, with our hurting feet, blisters, and even a cut toe. We bid BlogWorld & New Media Expo adieu – see ya at New Media Expo!