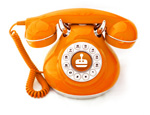 While we live in a continuous wired-in existence, doesn't it strike you funny that out of the box blogging software doesn't offer much in the way of allowing others to contact us? ContentRobot offers some ways you can enhance your blog, so that others can reach you:
Email links
It's easy to add your [email protected] link on your blog; however, it opens you up for a bunch of spam. To combat that, you can create a link that doesn't explicitly write out the address – consider these formats: contactme [at] myblog.com or contactme[SPAM]@myblog.com (don't forget to tell people to remove the [SPAM] when writing you).

Contact Forms
Just like any website, forms are great to include on your blog. This allows you to capture any visitor information you like along with the questions and comments they may have. There are several ways to put a form on your site. We often recommend Wufoo. You can create and plunk in a form into your blog in about 15 minutes. For an easy-to-find example, the ContentRobot contact form was created with Wufoo.
Phone Number
Can we find your phone number easily on your site? It's a good idea to prominently feature your phone number on all your pages in a fairly big font size. If we're interested, we just might call.
Skype
Take advantage of internet telephony so clients can contact you when you are online. Skype allows you to put a status on your site so we know when you are available and when you are not. It also has an instant messenger component that can be extremely handy without giving out your screen name.
In Sum
Stay connected through as many avenues as possible – you never know where those connections might lead!