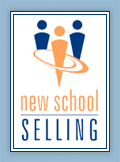 Purpose: New School Selling sought a new web site because it was moving away from its "Sales Warrior" model toward a new branding effort, along with recently expanded products and services. To build a cost-effective, feature-laden site, ContentRobot developed the NSS web presence using blogging software as its platform – or created what we call a blog-powered web site.
By implementing WordPress and a variety of plug-ins, the redesigned NSS website not only offers detailed information about their training courses and products, but it includes a blog and a newsletter – so that NSS's readers can stay informed about New School Selling and its offerings.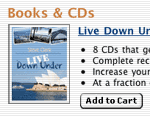 Features: Visitors can learn all New School Selling's sales philosophy, and why the old methods of selling either don't work or are increasingly becoming less effective.
Readers can discover (and purchase) the variety of training that NSS offers, from in-house seminars to weekly telecourses. Don't have time to learn that way? Check out NSS's books and CDs that allow students to study at their own pace. Updated content drives visitors to explore the entire site.
The event calendar allows readers to see at a glance where owner, Steve Clark, is teaching or when the telecourses are being held. Behind the scenes, maintaining the schedule is as easy as writing a post.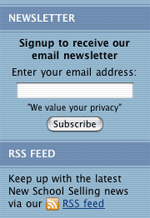 Subscribers can keep track of entire blog via an RSS newsreader. Readers not familiar with RSS, or prefer to receive information via email, can get the latest posts in their inbox by signing up for the newsletter. Existing newsletter readers were simply converted to the new blog-driven newsletter technology without disruption of their subscription.
Taking inspiration from the contemporary New School Selling logo, ContentRobot created a sleek and sophisticated look. By using a three-column customized template, we were able to prominently feature the offerings, events, and blog entries, complementing its main navigation.
Why It's Successful: The former flat, one-way website has been transformed into an interactive one, where visitors can learn about NSS and get more involved in the company. At a glance, the event calendar keeps readers up-to-date and aware of NSS happenings. The blog is where readers can get information about sales and the selling process, are encouraged to exchange ideas. Early response to this redesign has been nothing short of positive!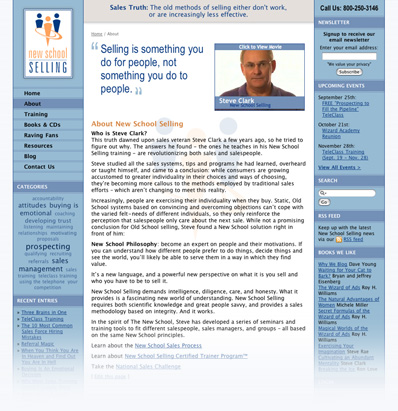 Go check out the New School Selling Blog-Powered Website!