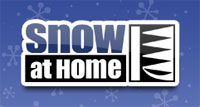 ContentRobot launched a new website for SNOWatHOME. While this newly redesigned site did not include a blog or blogging tools, ContentRobot provided a variety of technical expertise to successfully complete the project.
SNOWatHOME offers the snowmakers and related equipment for individuals to make snow in their backyards – because it only takes one cold night to make a big pile of snow. This young company has been featured on the Discovery Channel, HGTV, and MTV. Their original homegrown website needed some enhancements done in time for the holiday season.
Website Redesign
The website was previously designed using Microsoft Front Page, which caused some problems for Macintosh visitors and other non-Microsoft browsers. To expand their audience and make the site easier to update, ContentRobot converted SNOWatHOME's new design into Macromedia Dreamweaver templates. The redesigned look features an updated SNOWatHOME logo and a more standard, 3-column design.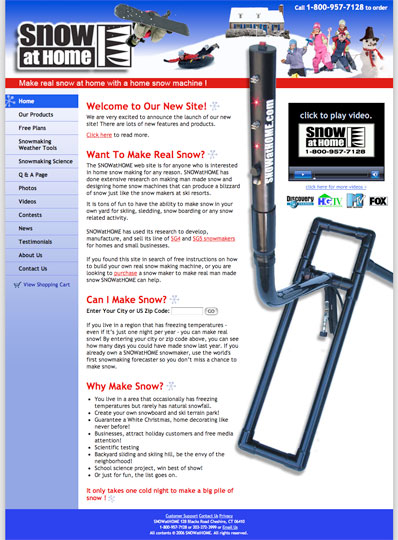 E-Commerce Experience
SNOWatHOME used PayPal's shopping buttons to allow users to purchase their snowmakers. With an expanded product line (now offering snowmaking pumps and another nozzle kit), they needed a more robust shopping cart to complete orders. ContentRobot integrated LiteCommerce to better handle customers, PayPal processing, international shipping, and various delivery options. To take advantage of the new toolset, ContentRobot also assisted SNOWatHOME in converting to a new host and installing SSL (online security) for peace-of-mind purchasing.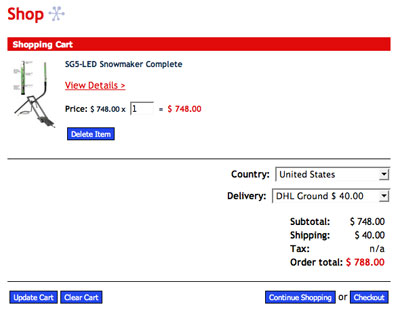 Photos and Videos
To share a great story you must "show, don't tell." SNOWatHOME does that by highlighting customer videos and photos (many from their yearly contests) throughout the new site. To best demonstrate the fun, ContentRobot incorporated Proxus FLV Player to showcase the videos. Because Macromedia Flash is used by over 85% of the browsers, this application allows the majority of viewers to easily enjoy the videos without launching an external, propriety media player.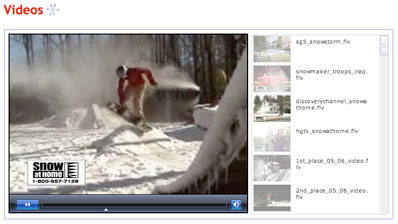 The versatile SlideShowPro allows visitors to check out SNOWatHOME photos by album, to step through individual photos (including clicking to actual size) or to view slideshows. This great piece of software, which also takes advantage of the Flash platform, has a great administrative interface for the front- and back-ends alike. ContentRobot customized the application to SNOWatHOME's colors and specifications.
Snowmaking Weather Tool
SNOWatHOME developed a unique online tool that allows site visitors to see if they can make snow on any given day and how many times they could make it the previous year. ContentRobot installed and incorporated it into the new site.
ContentRobot has successfully assisted SNOWatHOME with their transition to their new site. They look forward to the snowmakers flying off the shelf.
Check out the new SNOWatHOME website!